Who: Malini Ramani (IG: malini_ramani)
Location: world traveler, based in New Delhi
Occupation: fashion designer, maliniramani.com
Malini and I have never met in person, but we share some pretty interesting similarities. First of all, we both have spent a considerable length of time in the fashion industry (although she definitely beats me out on this one). While I owned a high-end fashion boutique for 5 years, Malini has been designing clothes for over 18 years. This woman is a wizard with colors, fabrics and flow. Everything she creates has an old soul with a modern feel. Her brand has been featured many times in Vogue and Conde Nast Traveler and has been known to dress the jet-set socialite.
We are also both Kundalini yoga teachers! I loved finding this out about her. She is such a strong force for all that is good and inspiring in this world, and it doesn't surprise me that she credits this type of yoga for making her soul "soar."
She also believes in magic and miracles.
She is also a writer, interior designer & mixed media artist. And just recently she has designed a Kundalini-inspired line of apparel. She sent me a sample that is not only unique and beautiful, but also the most comfortable I have ever worn or taught in.
I highly recommend checking out her website and following her on Instagram…her account is insightful, encouraging, witty, deep, entertaining…and for the fashionistas out there…she sprinkles some of her dresses and kaftans in there!
I hope you enjoy her open and honest share.
Sat nam,
Elise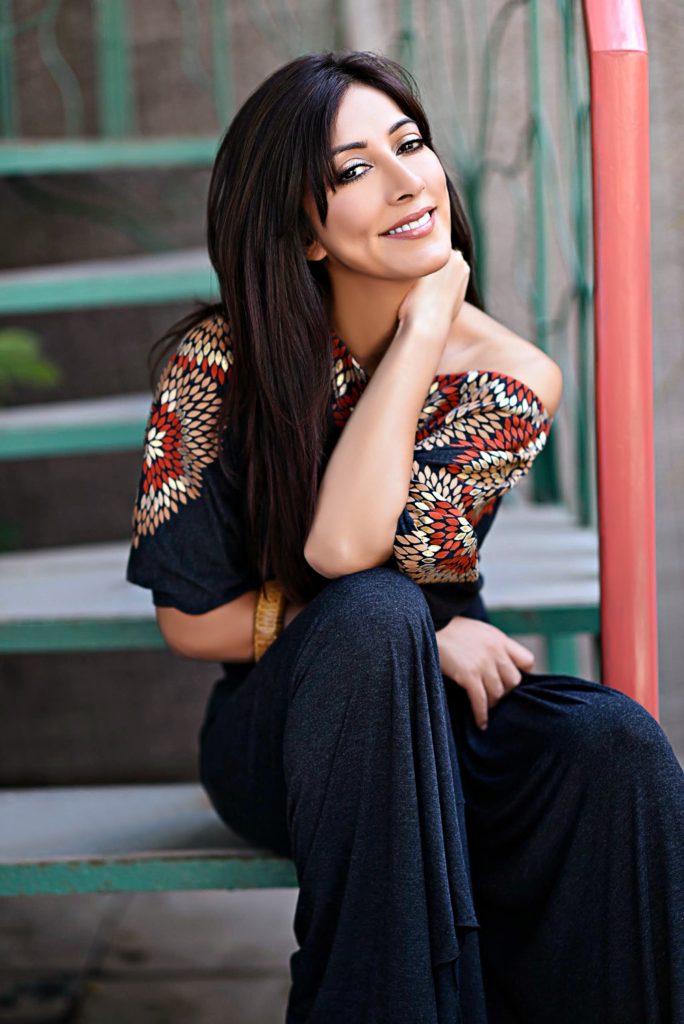 1). Who are you?
I would say I am a blend of the east and the west.
My name is Malini Ramani and I'm 48 years old.  I'm single and don't have kids either. So- basically…I'm kind of on a solo journey. As I'm getting older, I feel myself feeling more and more Indian.  I suppose it's a good thing that I live in the country of yoga, magic and spirituality. I'm on a constant search to discover the secrets of the universe and those of my own soul.
I feel myself changing and growing a lot during this particular phase. All aspects of me are different from what they were… I even look very different. Until a few years ago I only wore western style clothing..including super skimpy barely there dresses.  Now, the way I look and feel is completely different. I wear Indian cotton kurtas with matching salwars (Indian pajama style pants) almost every day.
I suppose I am most well known as a fashion designer, because I have had my own brand of clothing for the last 17 years. It's been a fun ride…with many ups ad downs and lots of adventures and travels and it's also been very tough on many levels. Tears, joy, heartache, laughter and a lot of bitchy people is what I experienced in the fashion industry.
Two years ago I did my Kundalini yoga teacher training in Bali and it changed my life. When I finally had the guts to teach my first class- I felt a kind of joy that I had never experienced before. I didn't think it was possible to feel so complete. It made my soul soar. I now know without a doubt that one of my main life's purpose is to help, teach and inspire others. The fashion industry doesn't let me explore too much of that…so I am in the midst of a transition phase.
2). What is the greatest challenge you have overcome/are overcoming?
I feel one of the most difficult things in life is letting go. We all live with so much fear of the unknown. I worry a lot and am anxious a lot of the time. I wish I could just drill into my own head that…"I cannot control anything".
I want to be able to surrender to the universe. I want to live through my heart instead of my head.
One other big problem that I have is that I am not disciplined enough. I have a lazy streak- but saying that I am also very hard on myself. I need more balance in my life. I'm a Libra and our symbol is the scale. The days I am balanced are the happiest days of my life.
3). What have you learned?
I have a new tattoo on my right wrist which is the Arabic symbol for the word 'Sabr" which means faith and patience. I got the tattoo because I wanted to keep reminding myself that if I just believe in these two words and live them with honesty and commitment – I won't stress about anything. I have also learned that we cannot control anything.
Besides that- I have learned that "Wisdom is when you realize that all the cliches are true"  (such as "What comes around goes around"  and 'When one door closes, another one opens." )
The biggest thing I have learned is that everyone has his or her own journey.
Don't compare – don't compete!
Be your unique self and trust in the universe.